Its a shocking news that has come this morning that West Indies discard Runako Morton had expired following a road accident. Morton who has played international cricket from 2002 to 2009 with 15 Tests and 54 ODIs to his name is believed to have died on the spot following a car crash on the 4th of March in Trinidad and Tobago.

The news of Runako Morton's sad death hasn't been confirmed yet by any major news sources yet. But the reactions from the various West Indian players on social networking sites like Twitter and Facebook suggest that Runako Morton is no more! Some of the players who have talked about Runako Morton's death include Chris Gayle and Wavell Hinds!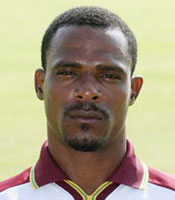 Chris Gayle on twitter says : "We lost a True Warrior W.I Cricketer Runako Morton-May is soul rest in peace! Our memories together Live On!-My Condolences to his Family :("

Kevin Pietersen on twitter says : "My thoughts go out to Runako Morton's family this morning... Such sad news!! What a lovely guy & fierce competitor!! RIP bossman!!!"

Wavell Hinds on twitter says : "Gone far too soon brother Runako. I will treasure the great memories for sure. R.I.P. God knows best."

Runako Morton has 4 50s in the 15 Tests he had played for the West Indies without much success. In the 56 ODIs, that Morton has played, he came up with 2 100s and 10 50s to score 1519 runs at a batting average of 33.75. Morton has played first class cricket for the Leeward Islands, Nevis and Trinidad & Tobago. Runako Morton also holds the dubious record of scoring the longest ducks in ODI history when he failed to trouble the scorers despite facing 31 balls in the DLF Cup 2006/07 Final against Australia at Kuala Lumpur, Malaysia.