Michael Clarke who sustained a hamstring injury during the India match at Adelaide will be missing atleast one ODI. Clarke has been ruled out of Friday's match against Sri Lanka but is expected to return back in the team for the Sunday contest against India. Clarke has a grade one hamstring strain which may not take too long to ease out.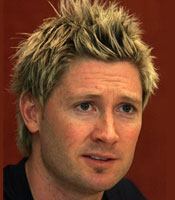 In the absence of Michael Clarke, Former Skipper Ricky Ponting has been appointed as the stand-in captain! The Selectors have decided that David Warner, the other alternative is too inexperienced for that role. According to the Australian National Selector John Inverarity - "David Warner displays considerable leadership potential, but the NSP is of the view that he should not, at this moment, have the added responsibility of captaincy thrust on him'.

Inverarity also said that "After careful consideration the NSP has asked Ricky Ponting if he would captain the Australian ODI team in Michael Clarke's absence".