Pune Warriors have received yet another setback going into the IPL 5 with Graeme Smith ruled out with an ankle injury. The South African Test Captain will miss the entire DLF IPL 2012 as he is set to undergo an ankle surgery. The rehab period for Smith following the surgery is going to around 8-10 weeks. The surgery is scheduled to take place on next Tuesday with Smith aiming to be available for South Africa's Tour of England in July.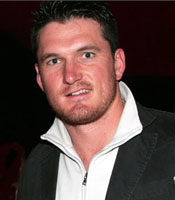 Smith has been quoted in the Cricket South Africa website as "I'm very disappointed to be missing out on the IPL this year," Smith said. "I was looking forward to my second season with Pune Warriors, especially after my knee set me back last season. I would like to wish them all of the best this year, I'm sure the new management and exciting new signings will be a positive boost for the side.
"My ankle has been troubling me for some time so it will be a relief to have it repaired, especially looking ahead to the crucial year of cricket ahead."
The Pune Warriors will now seek to find a suitable replacement for Graeme Smith.