It was some electrifying fielding performance from Team India which was responsible for its 8-wicket victory over Australia in the Second Twenty20 International at Melbourne on Friday. After Praveen Kumar's double strike in the 3rd over of the match, there were two more strikes from Team India that left Australia on the backfoot at 54 for 4 in 8.3 overs. These two strikes came from the young energetic Ravindra Jadeja who pulled off sharp run outs to help his side get rid of a well set Aaron Finch (36 from 23 balls) and Australia Skipper George Bailey.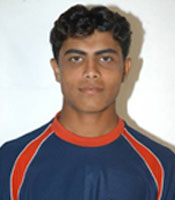 On both the occasions, Ravindra Jadeja kept his cool under pressure, stopped the ball cleanly and in a flash fired throws to effect the run outs. The Australians gave him the opportunity by running madly because of the demands of scoring every ball in a Twenty20 game.
Jadeja, who was on a high after those two run-outs followed it up when he lured David Hussey to whip him across the line and against the turn to grab a return catch, The 23-year-old Ravindra Jadeja bowled 3 overs giving away only 16 runs besides the wicket of Hussey. Jadeja didn't get the chance to bat but his two run outs and the wicket of David Hussey got him the Man of the Match award!