By BV Swagath
Kolkata Knight Riders have entered into the Finals of IPL for the first time ever. They did so by beating Delhi Daredevils in the 1st Qualifier at the Subrata Roy Sahara Stadium in Pune by 18 runs. Delhi Daredevils were in a decent shape to overhaul KKR's 163 but some of their decisions were baffling like that of holding back big hitters Ross Taylor and Irfan Pathan. A couple of smaller players Y Venugopal Rao and Pawan Negi were sent ahead of the dangerous pair and that cost Delhi badly with quite a few balls wasted. Delhi will get another opportunity to make it to the Final should they win in the 2nd Qualifier Match.
Delhi was put on the backfoot in the run chase at 24 for 2 when openers David Warner and Skipper Virender Sehwag were dismissed in consecutive balls. L Balaji bowled beautifully with the new ball but after his second over was out of the game with a hamstring injury. The Daredevils recovered nicely after the double blow thanks to the partnership between Naman Ojha (28 from 28 balls with 4 fours and a six) and Mahela Jayawardene (40 from 33 balls with 6 fours). By the 15th over, KKR dismissed both these batsmen to have Daredevils at 108/4.
Just when the match was nicely poised, Delhi sent in Y Venugopal Rao (13 from 22 balls) and Pawan Negi (14 from 11 balls) which proved to be a disaster! By the time, the proven international stars Ross Taylor and Irfan Pathan walked in, there were very few balls left with lots of runs to score. Sunil Narine most importantly had two overs left in the slogs and he finished the match with figures of 2 for 24. Kallis controlled the other end with 2 for 24 as well.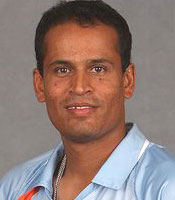 Ross Taylor (11 from 8 balls with a six) and Irfan Pathan with 6* (from 3 balls) were helpless for Delhi Daredevils after being sent in too late to bat. Yusuf Pathan got the Man of the Match award for his cameo during the KKR innings.
Shukla, Yusuf lift KKR to 162/4
A late surge from Laxmi Ratan Shukla and Yusuf Pathan lifted KKR to a competitive total of 162/4 on what seems to be a spinning pitch at Pune. The final over of the innings bowled by Varun Aaron was taken for 21 runs which made quite a lot of difference for the KKR. LR Shukla with 24* (from 11 balls with 3 fours and a six) and Yusuf Pathan with 40* (from 21 balls with 3 fours and 2 sixes) got KKR the perfect finish to their innings.
It was steady going for KKR after their Skipper Gautam Gambhir provided them with an explosive start with 32 from 16 balls (with 3 fours and 2 sixes) before he got run out in the 6th over. Brendon McCullum (31 from 36 balls with 2 fours and a six) and Jacques Kallis (30 from 33 balls with 3 fours) struggled to score quickly on a slow pitch. Left arm spinner Pawan Negi was difficult to get away with just the 18 runs coming in his 4 overs. But Delhi had just the one specialist spinner in him and that proved to be a blunder towards the end.
Toss and Team Updates: Kolkata Knight Riders have won the toss and elected to bat first against table topper Delhi Daredevils at the Subrata Roy Sahara Stadium in Pune in the First Qualifier of IPL 5. For starters, Virender Sehwag is back in business after resting for a few league games. The winner of this Qualifier will reserve a place in the big IPL 5 Final to be played on the 27th at the MA Chidambaram Stadium in Chennai. The loser of this match will get another opportunity to make it to the Final if it wins in the 2nd Qualifier Match on the 25th.
Well, Delhi Daredevils have made two changes with Virender Sehwag and Ross Taylor coming in for Unmukt Chand and Andre Russell. Kolkata Knight Riders have gone unchanged on the other hand.
Delhi Daredevils: V Sehwag (Captain), DA Warner, DPMD Jayawardene, NV Ojha (Wicket Keeper), LRPL Taylor, Y Venugopal Rao, IK Pathan, P Negi, VR Aaron, M Morkel, UT Yadav
Kolkata Knight Riders: G Gambhir (Captain), BB McCullum (Wicket Keeper), JH Kallis, MK Tiwary, Shakib Al Hasan, YK Pathan, DB Das, R Bhatia, Iqbal Abdulla, SP Narine, L Balaji