Sunil Joshi, the former India left-arm spinner, announced his retirement from international and first class cricket. The 42-year-old was a doyen of Karnataka cricket for two decades, during which he won the Ranji Trophy thrice. However, he couldn't quite replicate the effort at the international level. He featured in only 15 Tests and 69 ODIs over a span of five years, during which a lot of expected of him. Unfortunately, he only ended up with 41 Test and 69 ODI wickets. He had only one memorable performance in each format of the game – in Tests it came in Bangladesh's inaugural five-day match, in which the all-rounder picked up eight wickets and registered his Test best score of 92. In ODIs, his spell of 5 wickets for 6 runs in an ODI against South Africa is among the best ODI figures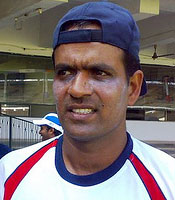 Joshi, however, was not the only left-arm spinner to struggle at the big stage. Many before and after him have also not tasted a lot of success. In fact, ever since Ravi Shastri quit the game in 1992, India have failed to a suitable replacement for the left-arm spinner's slot. Here's a look at a few others who were tried and tested in recent years, but their appearances remained limited due to various reasons.
Murali Kartik: He was the unluckiest of the lot, and possibly the most talented of all left-armers India have produced in the last decade. Despite making his debut in 2000, Kartik's appearances have been reduced to a mere eight Tests and 37 ODIs. In these games, he has taken 24 and 37 wickets respectively at averages of 34 and 43 respectively. Even though Kartik's figures did not do justice to his potential, he still showed glimpses of capability. What he needed was more opportunities, which were denied to him, unfairly on a number of occasions. He still plays country and T20 leagues. However, his chances of reappearing for India have all but disappeared.
Maninder Singh: He was touted by many as the next Bishen Bedi, but did not end up doing even half as well. Singh did have his moments in the sun, doing exceptionally well against England in 1986. His flight and loop were the talking points for a while in Indian cricket. However, it was too good to last. The fact that Singh made his debut as a 17-year-old meant that he wasn't mature enough to deal with the pressure of being the next big thing. In no time, he was the forgotten man of Indian cricket.
Venkatapathy Raju: Of all the left-arm spinners to have represented India since the 90's, Raju has been the most successful. That tells a story, for Raju picked up 93 Test wickets and 63 in ODIs -- good but nothing special. Raju was a lot more talented than the figures he eventually achieved. But, in an era when Indian spinners thrived in home conditions, Raju was among the many who struggled abroad.
Rahul Sanghvi: This Delhi lad only featured in 10 ODIs and a solitary Test. While he impressed in a few of the one-dayers, especially against minnows, he was thrashed all over Wankhede Stadium in Mumbai in the 2001 Test against Australia by Matthew Hayden. That knock revived the Aussie opener's career and brought down curtains on Sanghvi's international ambitions.
--By A Cricket Analyst