Tomorrow's Second T20I at the Melbourne Cricket Ground should be a perfect opportunity for Team India to give some valuable match practice for all-rounder Irfan Pathan. While it will be unfair to drop either of Praveen Kumar or R Vinay Kumar, India could rest Rahul Sharma who had split his webbing while trying to take a return catch that was smashed back to him by Travis Birt in the First T20I at Sydney. Irfan Pathan should be picked in Rahul Sharma's place.

With not much of pace at his disposal, Irfan Pathan depends on helpful pitch conditions which he is bound to find in Australia. Irfan Pathan, who made an international comeback during the One Day Series against West Indies showed that he was getting his late inswing back in his repertoire. The left-armer hasn't still got back to his full pace though which he was possessing during his maiden tour of Australia in 2003/04.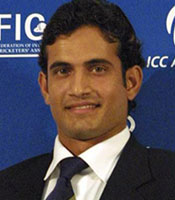 Despite being out of the Indian team in most of the formats for a long time, Irfan Pathan continues to have a good fan following, some of them for his good looks while some of them are for the promise that he has to be a rare all-rounder in Indian Cricket. The Team Management will be more than happy if Irfan Pathan can deliver the goods especially with the ball as his batting has always been very good lower dowm the order.

The 27-year-old Irfan Pathan has so far played 29 Tests taking 100 wickets, 108 ODIs taking 154 wickets and 16 T20Is taking 16 wickets along with some solid batting performances.