Former England captain turned renowned commentator Tony Greig made a scathing attack on the Board of Control for Cricket in India (BCCI) during the MCC Spirit of Cricket Cowdrey Lecture at Lord's, appealing to the Indian board to stop looking at self-interest and "embrace the spirit of cricket and govern in the best interests of world cricket, not just for India and its business partners." According to Greig, India, being the leader of world cricket, must assume the responsibility of ensuring that the long-term future of Test cricket and that of not-so-powerful Test countries are "prioritised above short-term commercialism". Greig is absolutely spot on when it comes to criticising the BCCI over its big daddy-like behaviour.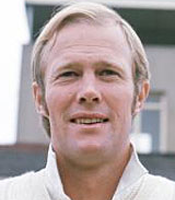 As the South African-born cricketer, who himself went on to become a part of the rebel Kerry Packer series in 1977 rightly pointed out, India are becoming way too strong and, in essence, are undermining the role of the ICC, the global governing body of the game. In an ideal scenario, the BCCI should be the one working forthe welfare of the entire game, and not just themselves. However,the fact that it is not happening becomes clear when one notices that the Indian Premier League (IPL) and the Champions League (CLT20) get greater promotions than Test cricket. To put things into perspective, the CLT20 promos were all over television even as India were being pummeled by England in England.
While on one hand it is great that India have emerged as a super power in the sport, thanks in main to the fans who flocked to matches played in the 80's and 90's and supported Indian teams like their family, on the other hand, they haven't exactly made proper use of their position. In fact, they have been bullying weaker cricketing nations as well as the ICC on the basis of their power they wield.
Even as the BCCI has transformed the IPL into a global event, they aren't allowing other similar leagues to grow. This is evident from the fact that the Indian board has refused to allow its players to participate in the Sri Lankan Premier League (SLPL), citing that their players cannot play in each and every league. And while the statement is an understandable one, Greig's idea is an ever better one. According to him, the IPL must be expanded into an 'Asian League' which should include teams from Pakistan, Sri Lanka and Bangladesh and that each of those boards should be given a financial stake in the competition, If that happens, the boards could finance their other cricketing obligations as well. Similarly, Australia can include New Zealand in the Big Bash and so on.
One only hopes that the BCCI has made note of some pertinent points stated by Greig. As the 65-year-old put it, the BCCI must act in the spirit of the game, which, in turn, will only benefit world cricket.
- By a Cricket Analyst