With the T20s and ODIs done with, Sri Lanka and Pakistan now move on to the Tests, with the first five-day game beginning in Galle on Friday. On form, Lanka would begin with the upper hand, since they got the better of Pakistan in the ODIs after drawing the T20s. However, it must be remembered that Tests are a totally different ball game. Also, Pakistan have had an excellent time in the traditional version of the game of late. They haven't lost a Test series since the controversial 2010 tour of England. In fact, they whitewashed the English squad, who came to UAE as number one, 3-0.Sri Lanka, on the other hand, haven't won a Test series since Muttiah Muralitharan's retirement in 2010. They did win a Test in Durban, and one at home against England. However, it is a fact that they are still learning to win without Murali, and that might take some time.
Pakistan have been dealt a big blow even before the Galle Test gets underway. Their skipper Misbah Ul Haq has been banned for the match owing to the team's slow over rate in the one-dayers. Mohammad Hafeez has been named the stand-in captain for the game, expectedly. However, the fact that Hafeez has struggled in recent matches wouldn't help matters. He will be under pressure to perform as well as get others to do well.
Batting is a big concern for the visitors, even leaving Hafeez aside. But for Azhar Ali, who surprised everyone with his stellar efforts in the limited overs matches. Pakistan's batsmen have struggled. Taufeeq Umar, though, he has done better in recent times can't be counted among the dependable batsmen in the squad as yet. To make matters worse, the experienced Younis Khan goes into the Test with almost no runs in recent one-day games. He was even dropped for the last ODI. Being the seniormost player in the side, Khan will be expected to shoulder additional responsibility. The question is whether he has the confidence to do so. They are stronger in the bowling department with spinners Saeed Ajmal and Abdur Rehman joined by Umar Gul and Aizaz Cheema.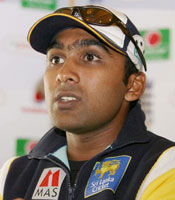 As for Lanka, they would heavily depend on their four experienced batsmen -- Tillakaratne Dilshan, Mahela Jayawardene, Kumar Sangakkara and Thilan Samaraweera. With Pakistan likely to keep their squad spin heavy, a lot will depend on how the foursome tackles Ajmal and co. Another key member of the Lankan outfit ever since the retirement of Muralitharan has been left-arm spinner Rangana Herath. While Herath isn't in the same league as Murali, he has done wonderfully well on his own, and has inspired the side to a few significant victories of late.
Neither side can stake claim to being outright favourites. Both teams would believe they have the players outdo each other.
--By A Cricket Analyst