England bowled out Pakistan for 230 to win the Second ODI at the Sheikh Zayed Stadium in Abu Dhabi by 20 runs on Wednesday night. Steven Finn was the chief wicket taker for England taking four wickets. Pakistan struggled on a pitch that was just too slow and low for stroke making. (Also read : Cook's back to back century lifts England to 250)
Chasing 251 from 50 overs, Pakistan couldn't have asked for a better start with 61 coming from the opening pair in 15.2 overs. The first breakthrough for England came from James Anderson when Mohammad Hafeez (26) played a flick shot little too early to spoon a catch to short mid wicket. It was a big blow for the Pakistanis in the 22nd over when the well set Imran Farhat (47 from 71 balls with 5 fours) ran himself out when he nervously moved out of his crease to escape from a close lbw shout. The bowler Stuart Broad quickly came to pick the ball and under armed it onto the stumps to have Pakistan to 92 for 2.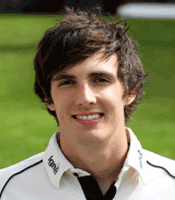 England was on top of things when Younis Khan (5) got hit on the pad while trying to flick a delivery from Samit Patel which straightened after pitching around leg in the 25th over. Pakistan got back into some shape thanks to a decent stand between Azhar Ali and Skipper Misbah-ul-Haq with the pair playing useful sweeps and reverse sweeps. Just when the partnership seemed to be getting bigger, Samit Patel struck again, this time in the 33rd over when he cleaned up Azhar Ali (31 from 50 balls with 3 fours) who was looking to make room for a cut but was foxed by an arm ball.
Pakistan was going through another crucial partnership after that blow with Misbah being joined by the aggressive Umar Akmal who was intent in scoring the boundaries. In the 39th over, Steven Finn got the better of Umar Akmal (21 from 23 balls with 3 fours) when the right hander slashed him towards covers where a diving Samit Patel came up with a very low catch.
Shahid Afridi joined Misbah-ul-Haq at 179 for 5 and so easily could have seen Pakistan home from that stage. Afridi tonked a six and a four but could only contribute a tiny cameo of 18 from 18 balls. His big wicket was taken by James Anderson with Afridi blindly going for a slog and having his stumps disturbed. Pakistan lost the plot from 207 for 6 in the 45th over with next man Abdur Rehman unable to even put bat to ball. The pressure mounted on Misbah-ul-Haq (47 from 59 balls with 2 fours) and he perished in the 48th over going for a desperate hoick off Broad but only to give a high catch to the Keeper Craig Kieswetter who ran backwards and then had to change direction before diving to hold onto the swirling white ball. Pakistan's hopes with that came to an end at 217 for 8.
It was just formality left with England wrapping up Pakistan in 49 overs for 230. Finn took another four-wicket haul for England. The Man of the Match award went to Alastair Cook for his hundred. England now cannot lose the 4-ODI Series having taken a lead of 2-0. (Also read : Cook's back to back century lifts England to 250)