During the second day of the Galle Test against Pakistan, Kumar Sangakkara remained unbeaten on 199 as Sri Lanka were bowled out. Sangakkara played an awesome knock, which took Lanka to 472 and put them in command in the Test. In this feature, we look at a few other knocks during which batsmen were either stranded on the score or were dismissed.
Andy Flower: Vs South Africa at Harare (2001)
This was a Test South Africa won easily but is often remembered for Andy Flower's brilliant batsmanship. At the peak of his powers, the left hander was undefeated on 199 in the second innings as Zimbabwe were dismissed for 391. In the first innings as well, Flower was in sublime touch during his knock of 142. Had Flower scored one more run in the second innings, he would have joined the likes of Sunil Gavaskar, Greg Chappell and Graham Gooch, who have scored a 200 and a hundred in the same Test. Still, his match aggregate of 341 runs was staggering and remains among the best Test performances ever.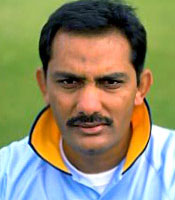 Mohammad Azharuddin: Vs Sri Lanka at Kanpur (1986)
Batting first, Sri Lanka had put up an impressive 420 on board thanks to Sidath Wettimuny's 79 and Ravi Ratnayeke's 93. India did even better in their reply, on an extremely flat pitch. Sunil Gavaskar playing in his last years in international cricket made 176 while Kapil Dev blazed his way to 163. But it is Azhar's knock that is recalled most about this game, for he was trapped lbw by Ratnayeke one short of 200. Azhar never managed to better the score, and in a strange co-incidence ended up playing 99 Tests.
Sanath Jayasuriya: Vs India at Colombo (1997)
In the 90's, Indian bowlers had no idea how to deal with the dangerous Lankan left-hander. Jayasuriya had already registered his Test best of 340 in the first Test of the series and went on to make 199 in the second essay of the second Test. Lanka were responding to India's first innings score of 375, built around tons by Sachin Tendulkar and Sourav Ganguly. They were in no pressure at all as Jayasuriya eased his way through his innings before being cleaned up by paceman Abey Kuruvilla.
Stephen Waugh: Vs West Indies at Barbados (1999)
This was the game in which Brian Lara miraculously steered West Indies to a one-wicket victory. Batting first, Australia registered an impressive 498 on board. Waugh batted for over 500 minutes and featured in a big partnership with Ricky Ponting, who also scored a ton. Waugh was eventually dismissed by Nehemiah Perry, leg before wicket.
Younis Khan: Vs India at Lahore (2006)
This is a believe it or not stat. Younis Khan was run out in a Test match for 199. Pakistan scored a mammoth 679 thanks to contributions all-round. They were four tons in the innings, but Khan was the highest scorer and could have scored more had he not been caught short by a Harbhajan Singh throw.
--By A Cricket Analyst