Kevin Pietersen announced his shock retirement from international limited overs cricket at the age of 31 earlier this week. In this feature, we look back at a few other talented cricketers, who quit either one format of the game or the sport altogether, much earlier than expected.
Lasith Malinga: Prior to Pietersen, it was Malinga who dropped a bomb shell, announcing his retirement from Test cricket last year. He was just 27. A knee injury forced him to take the decision to prolong his international career. Since making his Test debut in 2004, Malinga managed to feature in only 30 matches owing to constant fitness issues. He ended his career with 101 wickets, which were claimed at an average of just over 33. Malinga continues to feature in ODIs and T20s, but Test cricket is definitely poor without him.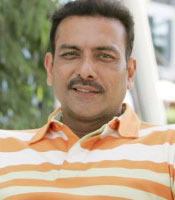 Ravi Shastri: This all-rounder from Mumbai with limited ability started early but finished early as well. Making his debut at the age of 19, he went on to play 80 Tests and 150 ODIs. He managed to score over 3000 runs in both formats of the game, with 11 Test tons and four in ODIs. In addition to that, he also scalped 151 Test wickets and 129 in ODIs at a reasonable average. He could have done a lot more but for injuries cutting short his career. Shastri had played his last Test when he was just 30. A feeling of incompleteness has always surrounded his career -- as to what he could have achieved had he played on for another three to four years.
Geoff Allott: Those who have begun following cricket recently may not even be aware of Allott's credentials. The former left-arm seamer from New Zealand rose to fame claiming 20 wickets in the 1999 World Cup, making him the joint highest wicket-keeper of the tournament along with Shane Warne. However, a persistent back injury reduced his career to 10 Tests and 31 ODIs, the last of which he had played before he had turned 29. His ODI figures were impressive, 52 wickets at an average of just over 23. He would be remembered as another of those cricketers who could not fulfill his potential.
Basit Ali: He was the next big thing in Pakistan cricket but did not keep his date with greatness. Ali blasted a Test and ODI century very early in his career but couldn't deal with the comparisons to Javed Miandad. Having made his debut at the age of 22, he lasted for just another three years. In that period, he managed to play 50 ODIs and 19 Tests but his numbers belied his potential –a Test average of 26 and a slight better ODI average of 34. Before 26, he had played his last international game and quit the sport altogether before he was 28.
Craig McMillan:Like his nature, McMillan's career was also a chequered one. He made his debut at 21 in 1997, shone briefly, found himself out of a team for a few seasons and made a successful comeback in 2007, only to announce his retirement after an impressive World Cup and join the ICL. McMillan played 55 Tests and 197 ODIs, averaging 38 and 28 respectively. He had the potential to achieve a lot more but probably the hunger was lacking.
- By a Cricket Analyst