Garfield Robinson reports on West Indies Vs New Zealand, Day 3, 2nd Test at Sabina Park, Kingston
The New Zealand batsmen negated the good work their bowlers did on the second day and are now in danger of losing the test series 0-2 on tomorrows fourth day at Sabina Park. As the game now stands, the West Indies are 135/4, 71 runs away from the 206 required for victory.
On a day when Jamaican sprinter Shelly-Ann Fraser-Pryce stopped the country and the test match for the 10.75 seconds it took her to dash to victory in the female version 100 meter finals at the London Olympics, the fair sized crowd, many of them clad in Jamaica's black, gold and green, watched as the visitors folded for an inadequate 154. They then sat back and enjoyed the batting artistry of their countryman Marlon Samuels as his 52, made with seven exquisite boundaries placed the hosts in what is certainly a winning position.
His dismissal shortly before the close might have given the tourists a whiff of hope, but with the usually immovable Shivnarine Chanderpaul still in occupation, and with Deonarine, Sammy and Ramdin to come, it would be a surprise if the West Indies does not proceed to victory.
New Zealand would have lamented the fact that the main architect of their demise was part-time spinner Narsingh Deonarine. Having rocked their innings with two late wickets on the evening of the second day, the Guyanese off-spinner secured two big wickets today to end with figures of 4/37 from 22 miserly overs.
McCallum and night-watchman Wagner started steadily enough for New Zealand, and it took the introduction of the wholehearted Tino Best for the first blow to be delivered. Brought on to bowl day's seventh over, the Barbadian immediately began sending down 90 mph missiles.
Wagner just managed to remove his glove from the path of a short delivery in the pacer's first over, but in his third, bowled from round the wicket, the left-hander could not avoid another short one which lobbed off his glove for Ramdin to accept the catch.Two deliveries later, Ross Taylor was on his way back to the pavilion because, again, he recklessly tried to cut a short delivery, and only succeeded in edging it through to the keeper.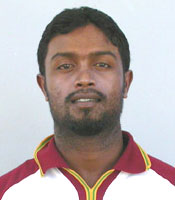 A few overs later it was Deonarine's turn. Bowling unchanged from the start of play, he sent down eight overs before he was able to turn one that kissed the edge of McCallum's bat, onto his pads, and then into Fudadin's grasp at short leg. Then, in his 13th over, he urged Kane Williamson to aim a cover-drive to a well tossed-up delivery, only for him to edge it to Sammy at slip.
Narine, operating in the shadow of Deonarine, joined the party by capturing the next three wickets, including that of Brownlie, whose 35 was his top score for the series, before Roach ended the innings by dismissing Southee, caught at fine leg trying to hook a short delivery.
Gayle started the West Indies' reply by hitting Boult for six in the first over. By the end of the fourth over, however, both openers were already back in the pavilion. Trent Boult swung a delivery past the big Jamaican's bat that would have clipped his off-stump had it not been for his pad, or so Hawkeye indicated when Gayle asked for a review. Then, in the next over, Powell chose to stay on the back foot to a well pitched up delivery from Southee that swung in to him slightly and was also LBW.
Fudadin and Samuels came together and added 74. The Guyanese left-hander was hardly ever at ease, and had to contend with some devilishly late away swing from Boult. One delivery in the fifth over changed direction so late and to such a degree that it would have probably gone past every player who ever batted left-handed. He had faced 74 balls for 27 when he diverted a short Wagner delivery onto his stumps.
Samuels, charming the gathering like he did the day before, had a lucky escape when Watling failed to collect a straightforward catch off Bracewell. His classy innings came to an end when he was well caught by Taylor at slip attempting to cut Bracewell. Night-watchman Roach and Chanderpaul then comfortably played out the remaining five overs.