Former Australian opener Matthew Hayden is considering a comeback to competitive cricket and could well be seen in action in the Big Bash Twenty20 tournament in December.
Hayden, who retired from international cricket in January 2009, is tipped to turn out for Brisbane Heat in the T20 extravaganza.
A Cricket Australia board member, Hayden played in the first three seasons of the Indian Premier League for Chennai Super Kings but did not participate in the last edition held earlier this year.
The big-hitting opener started off well in the third edition, striking a hurricane 93 off 43 balls, but struggled to get his act right as the tournament progressed.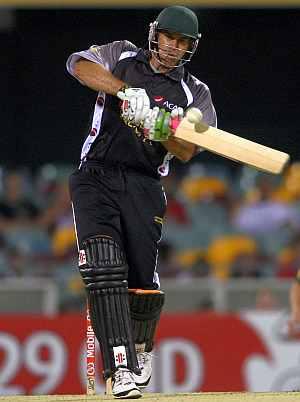 Hayden is also considering putting his business suit on hold to take to the field, reported The Australian. He runs his own company and is heavily involved in a government program to develop Aboriginal cricket.
Hayden is adored by Queenslanders and is expected to draw huge fans to the ground.
Meanwhile, David Hussey has confirmed his participation for Melbourne Stars despite a big pay cut. He will be paid $1.33m less than his IPL salary to turn out for the Melbourne based team.
Hussey, who has accepted $70,000 to play in the Australian competition, was paid $1.4 million a season to play for Kings XI Punjab in the IPL.
"There is something attractive about playing at home. I want to see Australia have a successful competition and I still believe that on the domestic front our cricket is the benchmark in world cricket," Hussey was quoted as saying by the daily.
"The reason I chose the Stars was I made a pact with a group of players to play in the team and hopefully have a successful year and go on to play in the Champions League where we will reap the rewards in prize-money," he added.