India might have lost the opening Test against England but skipper Mahendra Singh Dhoni on Monday said he was pleased with the performance of his boys considering the situation they found themselves in due to injuries to key players. "Considering the situation that we were in, I mean we lost Zaheer and it was a big blow as we had to go with three bowlers. Also the wicket was not spinning so it was difficult for Harbhajan to content the runs. But I was pleased with how the bowlers stuck to it," said Dhoni after India folded up for 261 in their second innings to hand England a 196-run victory and a 1-0 lead in the four-match Test series.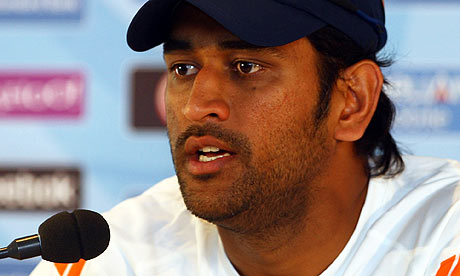 "Also in batting, Sachin unfortunately had a viral and then Gauti (GautamGambhir) got injured, so the batsmen had to bat at different positions in the second innings, it was forced situation but overall I'm happy with how we played over the five days," he added.

Asked if the team was under-prepared, Dhoni said probably a few more days would have helped them to prepare better.

"A few more days would have been really effective because it rained when we got here. But we can't make excuses," he said.

Asked about Zaheer's fitness, Dhoni said, "Zaheer might bowl at Trent Bridge but we don't know as yet."

To a question if India became complacent, Dhoni said that they never underestimated England.

"We take every series very seriously, we don't take any team lightly. Now we have 2-3 days to prepare and it would be exciting," he said.

His counterpart Andrew Strauss termed the victory "outstanding" and said he can't praise his team enough for the splendid performance.

"It was an outstanding Test match and an outstanding performance," he said.

As far as Kevin Pietersen's double ton and Stuart Broad's all-round efforts were concerned, Strauss said, "KP's innings was one of the best I've seen by an England batsmen in recent times. Broad showed his quality with both bat and ball. The wicket was flat, we had to build pressure and stick to it.

"It's always tough to bowl sides out here on the fifth day, if you're going to do it you have to be very disciplined and I can't praise the bowlers highly enough," he added.

Strauss said it was tough bowling on the flat wicket but they backed themselves to take 20 wickets.

"It was very tough batting conditions on the first morning, as tough as I've encountered here. We back ourselves to bowl teams out, we back ourselves to get 20 wickets," he said.

"It's hard work on flat wickets but we expect to do that. India are a very very good side, they showed glimpses of that this game and they'll improve as the series continues."

Pietersen was named the man of the match for his outstanding innings of unbeaten 202 in the first innings and the former England skipper said it would have meant nothing to him had the team not won.

"Brilliant for the team. If we would not have won, it would not have mattered," said Pietersen.

"It is just one out of four. It will be a tough job to dominate this Indian team. It reminded me of 2005 at Old Trafford, it was a special occasion. All bases seem to be covered in this team but but we know not to relax."

Suresh Raina, who waged a lone battle on the final day scoring 78, said gave credit to the English players but admitted that the team missed the fourth bowler.